Not a digital processor, micro core whatever, Intel something  or other? just true nostalgic solid state.
Ever since the age of 12 I have always had a fascination with tape recorders, I think it was my love of sound and that led to my interest in nonverbal communication. When I walk into a room, maybe a conference or networking event I always focus on what is being said, not the the actual words, but how they sound, the tone, pitch and volume is what interests me.
So at last I have a Tascam reel to reel tape deck, I love all the buttons the meters that record the sound and the big open spool tape reels. There is something very real (excuse the pun) and tactile about them, Not an Intel® Core i™ and Xeon® processors, digital something or other in site just true nostalgic solid state.
And that's how we should conduct our lives. Solid and in the present!
e
TEAC corporation was founded in August 1953 (In this year, NHK, the Japanese Broadcasting Corporation started television broadcasts in Japan). Factory was set up in Musashino City, Tokyo for the manufacture and sale of semi-professional audio components for recording and playback along with general electrical appliances.  Originally named the Tokyo Television Acoustic Company it employed Katsuma Tani (left), a former aviation and aeronautics engineer where he established a reputation as a highly qualified creator of audio equipment.  Known as the "King of Sound Technology" he had developed the first photo disc cutting system.
In 1956 his brother, Tomoma Tani, brought home a hand made 3-motor, 3 head stereo tape recorder. This sparked Katsuma's interest in reel-to-reel tape recorders. Confident they could engineer a better tape recorder the Tani brothers founded the Tokyo Electro-Acoustic Company on December 24th, 1956.  The name was later changed to TEAC. The factory was set up in Chitose-cho, Sumida Ward, Tokyo for the production of audio components, measurement and optical equipment and tape recorders.
 TEAC's goal was to be a leader in magnetic recording technology. In these early years when "hi-fi" was not a well known word, Tokyo Electro Acoustic Company developed a prototype of 3-motor open-reel tape transport system. In subsequent years TEAC introduced the world's first open-reel tape deck which had an automatic reverse mechanism. With this innovative product made in Japan the Tape-based hi-fi audio has begun.
---
Tascam  

Around the middle to late 1965, according to the Tascam book, 30 Years of Recording Evolution, the US government required electronic imports to set up US based service facilities. The one set up for TEAC was located in Santa Monica, CA and named TCA for Teac Corporation of America. Here they began retrofitting the Japanese stereo and quad decks for multitrack and Simul-Sync recording.
In the late 1960's, the Tani brothers and Dr. Abe Yoshiharu, a senior engineer at TEAC, formed a special R&D group named TASC (TEAC Audio Systems Corp.) for the purpose of researching ways to apply TEAC's recording technology for musicians and recording studios. TASCAM (TASC America Corp.) was established in 1971 for the purpose of distributing TASC products in the U.S. and conducting additional market research. The company's first home was at 5440 McConnell Avenue, on the west side of Los Angeles near Marina del Rey.

  Dr. Yoshiharu Abe (03/31/1931  01/02/2013) – is known as the father of personal multi-track recording in the audio engineering field. He was one of the five founders of TEAC in 1957 and went on to become one of the company's most important product designers.
In the may 30, 1970 Billboard, Teac said they were the largest manufacturer of 3 motor reel tape decks, turning out 9,00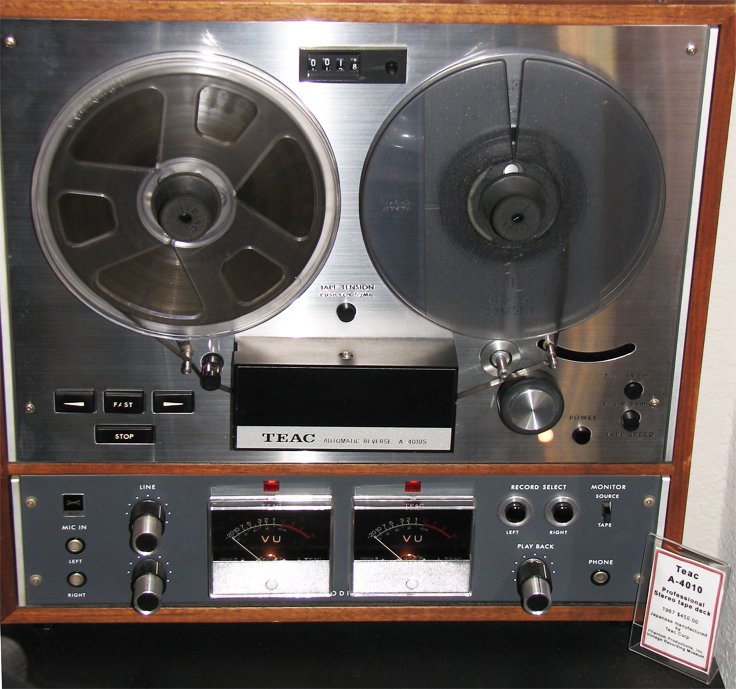 0 units per month.
During the formative years in the early '70s, the music scene was flourishing. Musicians who wanted to showcase their talents and abilities to the recording industry needed a cost effective means to record their music. However, most musicians could afford neither the expense of recording in a professional recording studio nor the asking price of professional recording equipment. Realizing the dilemma facing these musicians, TASC adopted a philosophy of manufacturing recording equipment that offered the uncompromising quality and durability of professional studio equipment while remaining affordable to the masses.
The early TASC multitrack products were sold under the TEAC brand name. In 1974 TASCAM was absorbed by the rapidly growing TEAC Corp. of America sales and distribution company, and TASCAM became the official brand name of all TEAC recording products designed specifically for musicians and recording studios.
1971 TASCAM (TASC America) created by Teac Audio Systems Corporation (TASC) of Tokyo and headed by Dr. Yoshiharu Abe and a small team of techs and marketing pros. The group began by converting Teac 4010 (right) recorders to the over-dub capable Simul-Sync 4 trackTCA-40 series.
Don Felder with the Eagles constructed the basic elements of Hotel California on a Teac 4 track.
TASCAM, the company that invented the home studio revolution, is one of four divisions of TEAC Corporation, a $1.2 billion manufacturing company headquartered in Japan. While the other divisions of TEAC have grown into a multitude of high tech industries including data storage devices, consumer electronics tools and industrial products, TASCAM has remained dedicated to making innovative products for capturing creativity in the field of music and audio.